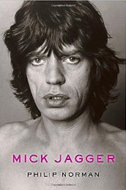 Fifty years a star. Gracefulness incarnate. Irresistable to women. Vain and arrogant, perhaps, but with so much to boast of.
But enough about Tim.
Mick Jagger is by contrast an accountant.
You think you know him. The drugs. Marianne Faithfull and the mars bar. The murder at Altamont. The parsimony. The priapism. The seven children with four different women. The ruthless wresting of control of the Rolling Stones from first Andrew Oldham, then Brian Jones, then Keith Richards.
Jagger has lived his life in the public glare, and yet he remains an enigma. He never much liked doing drugs. He was a wonderful friend to both Brian and Keith. He was admittedly a lousy husband, but a terrific father – the children all adore him. There is much more
to Jagger than meets his eye.
Philip Norman is a past master of the rock biography (Buddy Holly, Neil Sedaka, the Stones, the Beatles, John Lennon). He first interviewed Mick Jagger in 1965 and knows the period intimately. In his new book he turns his forensic brilliance on to the
quintessential rock star.
Podcast: Play in new window | Embed