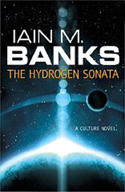 The Gzilt came close to being one of the founding civilisations of the Culture, but they have come to the point where they are ready to Sublime to the next level of existence. You might think that their minds would be on higher things, but there are still political shenanigans to stir the pudding before they're ready for Nirvana. Not least, there is the vexed question of which of the competing scavenger species lays claim to the technology and territory the Gzilt are giving up.
Iain M Banks thinks of the Culture as his virtual train set, which he periodically takes out to play with for another five hundred pages. The Hydrogen Sonata is the thirteenth book in this superb series of science fiction novels.
Tim Haigh appears to many of us to be a modestly unprepossessing human being, but he is actually the humanoid avatar of a Culture ship named the Kindle With A Vast But Inflexible Memory. He fired up his neural lace and downloaded his mind-state one more time to discuss The Hydrogen Sonata with Iain, and find out why in the future 'sublime' is a verb.
Podcast: Play in new window | Embed