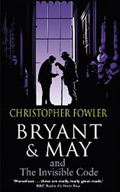 A woman dies for no apparent reason in a church in Fleet Street. A pair of children were playing Witch-Hunter nearby and they placed a curse on her. This is meat and drink to Bryant and May, the superannuated detectives in Christopher Fowler's entertaining series. Further equally inexplicable deaths follow, but the detectives are obliged to undertake a job for their political boss whose glamorous, foreign wife is showing increasing signs of instability.
Christopher Fowler gained an enviable reputation as a writer of what he calls 'dark fiction' and his brilliant feel for the underside of life feeds in satisfyingly to his more recent persona as a writer of cheerful murder mysteries.
After spending a delightful week with Bryant and May in the shadows and basements and secret places of London, Tim met Chris in the airy reassurance of a penthouse terrace in London to make a couple of confessions of his own.
Podcast: Play in new window | Embed