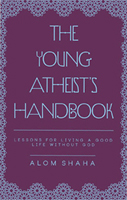 Richard Dawkins has said that there is no such thing as a Muslim child, only the child of Muslim parents. Saint Richard's admirers are wont to characterise the imposition of religious delusions as a variety of child-abuse but not all Atheist writers are that militant.
Alom Shaha was brough up in a Muslim community. He is now a physics teacher and a thoughtful and tolerant atheist, who has left the delusions far behind, without giving up any part of his heritage.
His new book, The Young Atheist's Handbook is his account of this journey, and also a meditation on the questions that might exercise others taking the the same road.
Podcast: Play in new window | Embed