Dr Thomas Halliday – Allen Lane – £20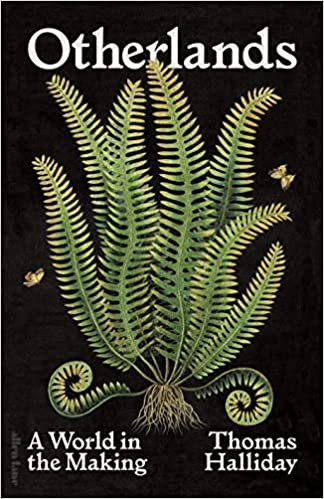 Otherlands is a kind of travel book, traveling in time and across the globe, pushing back through the last half-billion years, showing you ever stranger beasts and more and more unfamiliar landscapes. Each chapter takes us to a location in the world that exemplifies a nexus of evolutionary change.
Odd details capture your imagination and answer questions you never knew you had: In the Jurassic period, in the absence of wood-boring predators, logs lasted rather longer than they do now; Who knew? You wouldn't have seen flowers until the Cretaceous either, a mere 145 million years ago, not to mention a world without grass, which evolved even more recently than that. Then there are herbivorous crocodiles, lizards with wings on their hind legs and don't start me on 6-foot penguins and penis worms. Who knew?
Paleobiologist, Dr Thomas Halliday knew. In Otherlands, he shows you the world as it once was, presenting interwoven ecologies and placing you there as an observer of the most amazing story ever told. There is almost too much to take in, but there is something to ravish your imagination around every corner.
Podcast: Play in new window | Embed