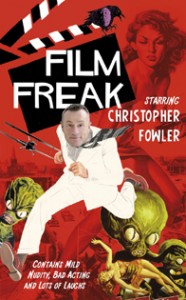 There was a time when film publicity consisted of having a poster painted, and sending the posters with the reels of film in the van when they were delivered to the cinemas.
And then advertising industry foot-soldiers Christopher Fowler and Jim Sturgeon had an idea. What the movies needed was somebody who did film publicity in a much more imaginative way. They were right.
What happened after that is laugh out loud funny, indiscreet and revealing, and treads cheerfully on the feet of silver screen glamour; and it is all weirdly plausible.
Whether he is telling the story of his ill-judged first visit to the Cannes Film Festival (everybody's first visit to Cannes is a horror story), facing up to his responsibility for the Brentford Nylons advertising campaign, or offering his insights into the darker corners of movie history, Fowler is excellent company.
But Film Freak is also a thoughtful meditation on what has been lost in movies, and a tender account of the final days of the British Film Industry in Soho.
Podcast: Play in new window | Embed