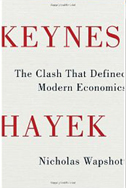 Can government action fix a broken economy? Eighty years ago John Maynard Keynes and Friedrich Hayek arrived at diametrically opposed conclusions. Far from being a dry and technical academic argument, it was then and is now the central division within political economy.
The story of the row between these men and their followers is explosive and astonishingly bad-tempered. Bring up the subject with any politician or social scientist and they will be aware of this story. But only now has anybody written the book.
There's nothing Tim Loves more than a knock-down, drag out, punch up between intellectual heavyweights, so he met Nicholas Wapshott at his London publishers to talk
about the economics and the politics and the personalities involved, bringing it right up to date to consider how Keynes and Hayek would address the present difficulties.
Podcast: Play in new window | Embed