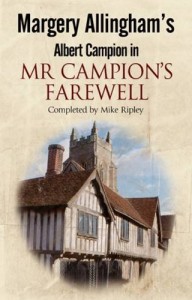 In Albert Campion, Margery Allingham created one of the timeless golden age detectives, often spoken of in the same breath as Lord Peter Wimsey and Inspector Alleyn. When she died in 1963 her husband and collaborator Philip Youngman Carter continued the series for two more books. A third was left incomplete. Well, we say incomplete. There was merely a fragment, four chapters kicking off a new Campion novel, but with no plot outline or notes for how it was supposed to continue.
Mike Ripley made his name with the brilliant comedy thriller 'Angel' series. In 2012 the Margery Allingham Society asked him to finish the incomplete Campion book, which he called Mr Campion's Farewell.
Tim is a long-standing fan of Angel, and is easily persuaded to become a fan of Campion as well. For Tim, it was time to meet Campion in person, and also Ripley, believe it or not.
Podcast: Play in new window | Embed